I read
this article
in the local Al Qabas (Arabic) and was stunned by the very concept of a non-Kuwaiti verbally surprised with the Kuwaiti state of affairs in Kuwait University.
Everyone agrees that university life is merely a micro-social representation of actual social life. You have your usual round-the-mill moderates, the two extremes (left & right), the clueless, and the powerful Uber-class. They all send their kids to college who interact with other people during their studies, and become influenced by their ideals & morals & values...just like normal societies.

What's shocking is that gender segregation has become an accepted scene in KU!! This educational institution which, by it's very presence, be neutral to ANY affiliation of any kind, has succembed to the demands of the weak-sighted religious parties and has segregated it's student body by gender. Now how is THAT useful??
During the 2006 elections, I visited a couple of the candidates HQ's around Kuwait, and while I'm NOT a registered voter yet (I refuse to participate in an incomplete Democracy..long story!) I wanted to see just how much Kuwaiti Politics has progressed with the advent of Women's constitutional rights....I was Shocked and Stunned!
Some women candidates promised equal rights for wives of non-Kuwaitis

Some men candidates promised waiving all outstanding loans
Some women promised grandiouse reforms to the political & judicial systems
Some men promised bribes
Some women went on Satellite TV in front of political animals and made a mockery of themselves
Some Government-backed candidates were supported by ex-minsters who were at one time accused of accepting kickbacks, bribes & wife-beaters!

Some 'has-been" opposition candidates were backed by other opposition candidates who are themselves has-beens!
Some regarded the entire affair as an excuse to stay up late roaming around in the streets.
People listened attentively, closely and quietly. People made constructed opinions and made voting decisions, people even campaigned their support to other people. I, as well as others of similar mindsets, believed that the woman's vote would change - forever - the way Kuwaiti Politics was viewed and practiced.
Well, this is what we got: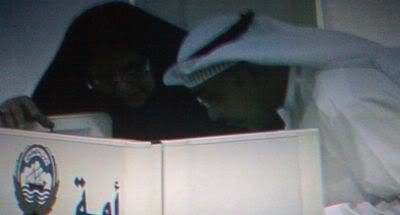 Shocked & Stunned!!
How can this be? My theory is, lack of political awareness and education! How can you value or understand gender equality when you haven't been properly exposed to it in the first place? Do people actually believe that a woman is NOT as equal as a man, even when the woman is a minister, or a University Dean, or the country's ambassador? It all comes down to one basic thing: Politically ambitious zealots who have hijacked the country with twisted versions of religion.
One question, before I close for the day: How was it like back in the 1980's, BEFORE these Islamists had government subsidized Petro-Dollars lining their pockets?
Waste of time? Waster of breath? You decide...